Critics mock an EPA scheme to create healthy salons, but Julia Carrie Wong hears how it is tackling an epidemic of health problems from staff, many of whom are Vietnamese immigrants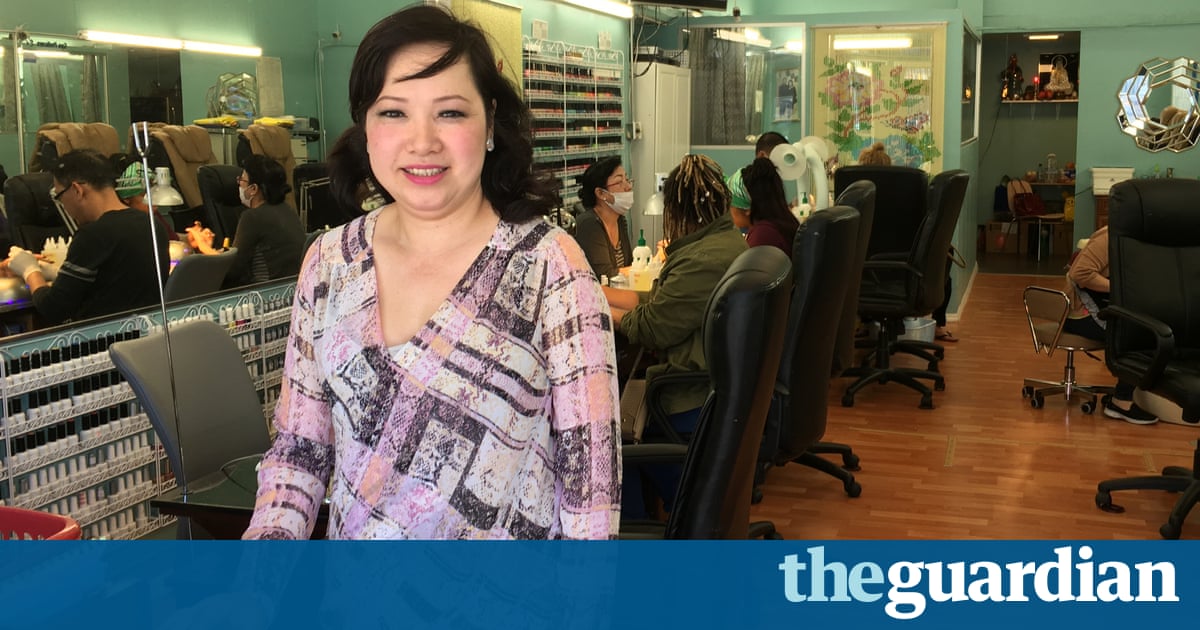 Each time Van Nguyen got pregnant, her doctor advised her either to stop working at the San Francisco nail salon she owns or have an abortion.
But Nguyen wanted to keep her babies and couldnt afford to stop working. So she avoided seeing doctors throughout her four pregnancies, despite experiencing significant bleeding during all four, and miscarriages during two.
Its not their fault, its my fault, the 46-year-old said through a translator of the doctors whose advice she didnt want to take. This is what I chose to do for a living, so I have to live with it.
Nguyen is one of thousands of Vietnamese immigrants in California, most of them women, who work 12-hour days in storefront salons providing customers with the quintessential affordable luxury manicures and pedicures.
But unlike workers at many nail salons, Nguyen said she no longer experiences the headaches, respiratory problems, reproductive issues and rashes that some research links to the chemicals found in common nail products. The air at New York Salon on San Franciscos Mission street smells fresh, workers attend to customers nails while wearing gloves and face masks, and elephant trunk-esque tubes hang over each manicure table, sucking away noxious vapors.
Nguyen adopted these practices thanks to the work of the California Healthy Nail Collaborative, a grassroots organization founded in 2005 to address what co-founder Julia Liou described as an epidemic of health problems among the Vietnamese immigrants who overwhelmingly own and staff Californias more than 9,000 nail salons. The groups work which has included establishing guidelines for healthy nail salons was recognized in November 2016 when the Environmental Protection Agencys office of environmental justice awarded it a $120,000 grant over two years to pilot a micro-loan program.
The micro-loans usually $5,000 or less are intended to help salon owners like Nguyen afford the new products, training and ventilation machines required to be designated a healthy salon.
Theyve also become something of a punchline for conservative think tank the Heritage Foundation, which has repeatedly singled the grant out as an example of wasteful government spending. The group called for eliminating the EPAs entire budget for environmental justice programs, about $7m per year, citing the nail salon grant as an example of a project completely unrelated to environmental justice.
Spending $60,000 a year for two years on the health of nail salon workers seems relatively minor considering that, as of August, the Secret Service had already spent $60,000 renting golf carts to protect Donald Trump when he visits his own golf clubs. But the entire office of environmental justice was indeed targeted for elimination in Trumps proposed budget.
Its no secret on where the Trump administration is getting their ideas, wrote Mustafa Santiago Ali, a former senior official at the EPAs office of environmental justice, in the Guardian. They are running a systematic playbook put together by the Heritage Foundation.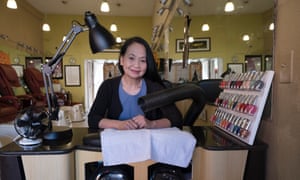 Read more: https://www.theguardian.com/us-news/2017/nov/28/us-nail-salons-the-challenge-to-protect-workers-from-chemicals